We have made a Top 5 list with our favorite french toast recipes so you can start your day with a super tasty breakfast! They are all dairy-free, simple to make and delicious. There are with banana, with pumpkin, with cinnamon, with cherries, you have it all in 5 fantastic different recipes, check it out!
Enjoy this wonderful classic french toast recipe made with all natural ingredients. You only need 1 bowl to make it and 6-ingredients. Super simple and delicious!
2. Vegan Chocolate French Toast
Delicious french toast made with cocoa powder and chickpea water. This fantastic version is super delicious! Top with cherries and coconut milk for a perfect combination!
A completely different version of french toast which is delicious and healthy! This recipe is made with peanut flour what makes them gluten-free and pumpkin puree, for a super tasty combination!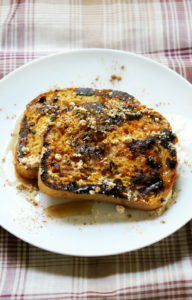 Super delicious banana french toast that is made with 5-ingredients. It tastes like banana bread, so if you like it, you will definitely love this recipe!
This amazing vegan french toast recipe is super quick and simple to make and absolutely delicious, topped with juicy cherries and coconut whipped cream for a 100% vegan version!