Everyone loves pancakes but with so many variations out there it is difficult to find the best recipe. Some of them have lots of ingredients and seem pretty difficult to make so we made a top 5 list of our favorite pancakes recipes which we consider to be simple, delicious and of course, 100% vegan! Enjoy!
A different vegan alternative to classic pancakes! These ones are made with cinnamon and pear puree, adding a wonderful flavor. They are easy to make, delicious and they are packed with vitamins!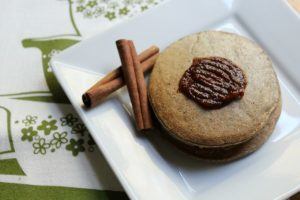 For all banana-lovers here there is a super tasty pancakes recipe which are made with banana flour for extra banana flavor. They are very easy to make, and absolutely delicious!
This picture say it all! These wonderful pancakes do not only look great but they taste fantastic. The touch of blueberry makes them special. They are also super simple to make, and they are ready in 15-minutes!
These pancakes which have a super attractive color are beautiful, healthy and flavorful at the same time! Thanks to the added of Matcha green tea, these pancakes are full of benefits from your body, and they are absolutely delicious!
5. Vegan Pineapple Upside Down Pancakes
Fantastic pancakes which each of them have a caramelized pineapple ring in the center, making this pancakes a wonderful option, plus the recipe includes a super tasty homemade coconut syrup which make these pancakes even better!