We have made a Top 5 list with the most wonderful vegan brownie recipes! These recipes have 2 thing in common:
They are super delicious and simple to make, that is why they are our favorites! We encourage you to try them, and delight your palate with each and every one of them!
1. Vegan Easy Gluten Free Brownies
Delicious vegan brownies which are made with chocolate and nuts. This recipe is made with only 10 ingredients, and it's 100% gluten-free!
2. Vegan Double Strawberry Brownies
Strawberries and chocolate come together to form this extraordinary vegan brownies! Made with a super tasty strawberry sauce for an extra strawberry flavor! Super delicious!
Delicious black bean brownies that taste exactly as the classic chocolate brownies. A super healthy option that don't lose the fantastic flavor of classic brownies!
Amazing vegan chocolate brownies that taste delicious, with a super soft and fudgy interior which are topped with chopped pistachios for a perfect combination!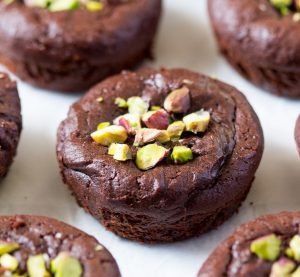 5. Vegan No Bake Brownies with Chocolate Ganache
These great brownies do not require oven, they are vegan, gluten-free and super delicious, plus they are made with a super tasty chocolate ganache for a perfect combo!